June 17, 2021
MalCare Coupon: Find Discount Code for WP Plugin
Order a MalCare plugin at up to 40% discount price. Redeem an exclusive coupon code to get an extra bonus here.
MalCare is an all in one security plugin for your WordPress site. If you are looking for easy and affordable way to remove malware from your blog; then this is the tool. It is fully automatic state of art plugin to secure your Woocommerce store and WordPress blog. No need to spend hundreds of dollars to hire security expert! Install and start using most advanced plugin within 60 seconds.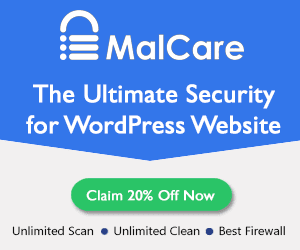 Unlike many other plugins; the MalCare never overloads your server and ensure complete security from malware and virus attacks. Whether you are non-technical or expert person; the plugin is perfect for anyone. It comes with easy to understand user manual. One of the best thing about MalCare is that; It runs in a real time. You no need to manually scan your blog or site. Simply install the plugin and forget everything. It runs on an autopilot and constantly checks your site.
Top rated MalCare Coupons and Codes
Save Up to 20% Off (SAVVY20OFFMC – Latest Promotion!)  – There is a wonderful offer for a new users. It's time to clean your WP site in an affordable way. Save 20% off on select plans with the SAVVY20OFFMC code.
Free Bonuses (Most Popular and 100% Working!) – If you are an existing or new customer; then here is the deal. Upgrade to an annual billing option and get 2 months of premium subscription for free. That mean; you pay for 10 months and get whole year (12 months) access here.
Free Trial – There is a free version available in the WordPress repository. Go and download now to scan your site against malware. However; It is not recommended for heavily malware affected sites. I suggest to try any of above offer for same.
HOLI25OFF (Old and Unreliable!) – During the Holiday season; the MC teams are offer 25% discount on all the new orders. Please copy and redeem the code for an annual plan purchase for maximum saving.
Is It A Safe and Reliable WordPress Security Plugin?
A MalCare is one of the digital product of Inactiv Media Solution. Based in Bangalore, India; the Inactiv was started by Akshat Choudhary in 2007. It was started with aim to keep your WordPress site neat, clean and healthy. With the help of this comprehensive malware scanner; you can instantly remove malware from your blog. If you have tried all the possible ways and fail to find the root cause of your hacked site; then this is the platform. Below are some great features of the MalCare:
The plugin scan your website from its own servers only. Hence; It never load on your server and keep your site fast.
It is fully automatic security plugin that fix your hacked website within 60 seconds.
The MalCare uses advanced algorithm to find the undetectable hidden malware. Never invite google blacklist.
The plugin does not delete entire file; rather It removes the identified malware within breaking your file or site.
It protect your site in a real time. No any coding or technical knowledge required to operate the plugin.
WordPress login page protection and client report generation.
Minimal false alert and brute force attack prevention.
Product and Pricing
The MalCare is available with four distinct plans – Personal (single site), Small Business (up to 5 sites), Developers (up to 20 websites) and Agency (more than 20 sites). The price is $8.25/m, $21.58/m, $66.6/m and $129 per month respectively. All these packages offer some great features such as; daily automatic scan, WordPress site hardening, 1 click malware fix, brute force attack prevention, in-build firewall and many more. Each of above packages have three sub-plans – Basic, Plus and Advanced. These three sub-plans are differentiated by their features. Please check the pricing page of official site to find out all the features.
A MalCare coupon code is rare and mostly available during Black Friday, New Year, Christmas and Memorial Day. If you are planning to buy in non-holiday season; then make sure to order plugin for at least a year. It save up to 20% off the monthly price. Most importantly; you no need to use any promo code here. Isn't that awesome deal?
Originally posted 2019-01-23 07:07:54.