February 12, 2023
Storrito Coupon: Get Discount Code on IG Story App
Don't buy Storrito without reading my review! Please redeem our coupon code to get up to 50% discount price.
Storrito is the premium Instagram story tool. Do you know? A beautiful and eye-catching story can accelerate your Instagram growth. The Instagram doesn't allow you upload or edit your stories from desktop. It is an official statement from their team. No need to worry! Now you can not only view; but also publish your stories to the Instagram from desktop. It is the time to open your hands without any limitations.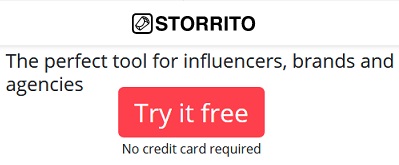 Storrito is an all in one app that not only helps to create; but also schedule Instagram stories. It is the best story editor tool that supports various Instagram goodies such as location, hashtags, poll, username, questions and more. A good thing is that; you can post automatically. It doesn't need notifications. Whether you are an Influencer, a brand or an agency; the Storrito is a perfect tool to post story from your desktop. Now you can prepare and schedule posts containing Emojicons, custom font and professional stock photos.
Top rated Storrito Coupons and Codes
Flat 20% OFF (Most Popular) – Do you have popular IG account? or Do you handle multiple accounts? You can now prepare or editor your Instagram story with intuitive tool. Receive 20% discount on your order of a Professional plan.
Free Trial – Enter your email address and few things to take an opportunity of a free forever trial. The trial account has several posting limitations; however it is enough to test their functionality.
producthunt27783 (Unreliable) – Holidays are around the corner and it is the best time to attract new followers to your social account. You can try their old code to save up to 20% off on your first order. It is not valid for your old or renewal orders.
BLACK_FRIDAY_18 – It is another old voucher that you can try. If works; you save huge 50% off on your first month subscription.
Is It The Best Instagram Story Software?
Based in Cologne, Germany; the Storrito is the web based story editor for Instagram. It was launched in 2016 by Max Weber with the mission to help everybody with the IG stories. The Instagram stories are the best part of the platform. However; not everybody aware of how to use or make it effortlessly. Furthermore; there are certain limitation like it is not available for desktop. In case your are struggling to build a good story; then the Storrito is the perfect solution. It helps to make and edit your IG stories from your desktop computer. All you have to login your online account to start using this wonderful tool.
Please take a look at some awesome features that you can neglect:
Prepare professional and eye-catching stories from your web browsers.
Post your story directly to Instagram or alternative you can choose a date and time to publish it later.
You can connect multiple IG accounts and swipe between those.
Organize all your media and stories in safe online space.
Share your work with your team to collaborate on any projects.
Choose their templates to make your image into an animated video. You can also customize header, background, link with different styles.
Cut or resize your video from within an editor.
Membership and Pricing
Storrito is available in three different packages; a Free, Standard and a Professional. All these plans come with all their features. The only difference is the number of posts per month. The Free is a basic plan that supports up to 10 posts per month. The Standard plan is a mid range pack that cost you $15 per month. It allows 100 posts per month. The Professional subscription cost you up to $61 a month. Here you can post up to 500 posts per month. You save 20% off the regular price.
A Storrito coupon code gives you additional discount on top of any other deal. However; a promo code is available during Black Friday, Cyber Monday, New Year and other special days only.
Originally posted 2019-10-04 10:57:37.