September 27, 2022
The Writer's Glove Discount and Coupon Codes
HelpINeedHelp has exclusive The Writer's Glove coupon codes for you to claim up to 40% discount on your next writing gloves.
Are you a writer, blogger, or an author who often write? do you want to get rid of cold or sweat hands while write? Thanks to the latest fabric technology, now you can type without cold hands.
The Writer's Glove is an unique gloves that make your cold hands warm, so that you can type on your keyboard comfortably. Working on your project during those winter days won't be difficult anymore!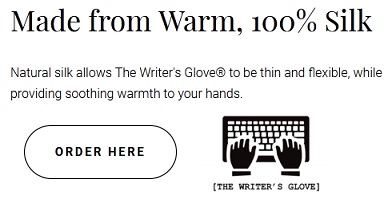 We know you have good typing speed. You can type 50 or probably even 100 words per minute. But what about those cold days? We must say that our typing speed may affect badly during winter. If you don't want to down your performance due to just bad weather, then here is the solution.
The Writer's Glove is made up from 100% silk material, so it fits to your hard easily and comfortably. In fact, you will feel like your second skin. I am sure, you won't feel it even when you type. It is a must-have weapon for all the writers around the world.
Top Most The Writer's Glove Coupons and Offer Codes
GRAPH10 (Editor's Choice) – Who doesn't like a discount? HelpINeedhelp.com bring an opportunity to save 10% off on your order of typing glove. Please make sure to redeem our exclusive promo code at the cart.
Free Shipping Worldwide – Get the world's best typing glove from within your home or office. Enjoy free shipping on every international order. That's itself $30 to $40 discount, if we consider the delivery charge.
Order Gloves for $25 Only – For a limited time only, you can order your writing gloves starting from $25 only. Make sure to avoid Amazon or eBay, as you may not qualify for guarantee and other perks that you get from official site.
Up to 25% OFF (Black Friday Sale) – Enjoy up to 25% off sitewide. No need to use any voucher code here. It's Cyber Monday and Black Friday deal, so that may not exist anymore.
The Writer's Glove – The Only Gloves That Protect From Cold
Based in Minnesota, the Writer's Glove is the warm and thin gloves for typing on keyboards. It was founded in 2017 by Ben Sobieck – a well-known non-fiction writers and author of multiple books. Ben was suffering from cold and stiff hands during winter months. He tried all the possible ways like lighting a candle next to keyboard and trying those winter gloves too. But nothing worked as expected.
Ben researched a lot and found few typing gloves, but most of those are finger less. He was looking for something that cover his entire hand. Ben decided to make his own gloves that keep his hand warm, and at the same time don't affect productivity. He spent count-less hours on prototypes and finally made a perfect glove for him. That's The Writer's Glove®.
Today, The Writer's Glove is being used by thousands of writers from all around the world. If you too want to make a big difference, then this is the perfect solution.
Our Writer's Glove Promos and Coupons
| | |
| --- | --- |
| 💰 Average saving: | 10% |
| 🏷 Coupons available: | 1 |
| ⏰ Last changed: | Sept 15, 2020 |
Products and Pricing
The Writer's Glove is available in two different version; a Standard and Deluxe. The Standard edition cost you $25 only. It is best to type on laptop, and desktop. The glove is made up from natural silk that makes the glove flexible and thin.
Price of a Deluxe edition is $30 only. It comes with some additional features like touchscreen friendly index fingers. Light grip on palm to hold items securely like cup of tea or a mouse. If you often work on tablets, smartphones, then the Deluxe is the best option.
4 FAQs by HelpINeedHelp Experts
How to get latest The Writer's Glove coupon codes?
We at HelpINeedHelp works hard to research most-recent The Writer's Glove coupon code and promotion for you. That's why, we suggest to first check this area whenever you want to buy your gloves.
Where to buy The Writer's Glove at discount price?
Please make sure to stick to an official site, when it comes to buy online. It includes free shipping, promo code and The Writer's Glove guarantee if any.
Do they allows money back guarantee?
Yes, The Writer's Glove provide 14-days money back guarantee. No restocking fee or charge for size exchange. Don't happy with your gloves? send it back within 14 days to get full refund.
Who can use typing glove?
The Writer's Glove® is available for anybody who want to write on keyboard, no matter if you are writer, student, scientists, office worker, blogger, or a journalist,
About Company
You can find The Writer's Glove® product page here.
Are you interested to know the shipping charges? Find the Shipping policy here.
Does Thewritersglove.com offers refund and exchanges? Well, you must read their full Refund Policy here.
Originally posted 2020-09-15 07:31:49.