January 15, 2023
RedTrack Coupon: Get Discount Code for Ad Tracker
RedTrack io subscription is available at 50% discount price. Redeem our coupon code free trial and extra saving!
RedTrack.io is the number #1 provider of SAAS tracker scales. They bring wide range of ad tracking solution for media buyers like you. If you are handing various ads campaigns and want to manage and optimize it effectively; then this is the best solution. If you are wasting thousands of dollars on ads without any result; then this is the platform to find the root cause. It is the time to closely look your ad campaign to boost your online earning.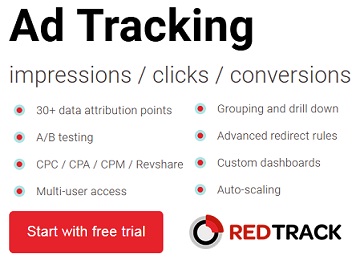 Whether you are an affiliate, an advertiser or an ad agency; the RedTrack.io is all in one ad tracking solution. Get an access to robust features and scalable cloud hosting solution. It is the time to optimize your affiliate campaigns and ROI with the help of the advanced data analysis tools. It helps to know the exact behavior of your visitors. Unlike many other systems; the RedTrack is simply, user-friendly and affordable. It provides all the details required by and media buyers to monitor and scale their campaigns.
Top rated RedTrack Coupons and Codes
giveme25 (Editor's Choice!) – Do you want to track and optimize your ad campaigns in affordable manner? Please use a code at the checkout time to receive 25% discount on your first month.
MOBIDEA or AffiliateFix (100% Working) – Take an opportunity to redeem either of these codes to save 25% off for first three months. It is the best value to reduce your initial investment. You can spend your saved money on buying more media.
AW50 (Best Value!) – Here is an another working voucher for you. Follow a link to sign up with our code and save whopping 50% off on your first payment. It is valid for monthly subscription package only.
Free Months – Go ahead and choose either a Starter, Pro or a Business plan for an entire year. You get two months subscription for free. That means; you pay for just 10 months and get an access to their premium features for a fulll year.
Is It The Reliable Ad Tracking Solution?
Based in Vilnius, Lithuania; the RedTrack.io is a cloud based ad tracking tool. It was started in 2016 by Vlad Zhovtenko with the mission to provides you campaign optimization and data analytics. Whether you want to know about your users click, impression, banner performance or traffic source; this is the number #1 data analysis tool. The Red Track helps to manage, track and optimize your campaign. They invest into state-of-art infrastructure and latest technology to bring uninterrupted performance.
Take a look at some stunning features of the Redtrack:
Supports all type of traffic sources such as CPC, CPM, CPI and Revenue share.
Quick start platform that does not require servers.
Supports 10 conversion subids and pixel based conversions.
Click, Impression, Https, custom domain URLs and No-redirect tracking.
Provides various types of reporting such as campaign, offer traffic, offer conversion, traffic source.
Allows report grouping, filtering and data attribution 30+ points.
Redirect based on weight, 18 filter types and subid.
Unlimited redirect streams with split A/B test redirects option.
Landing page protection, offer rotation and multi-offer support too.
It supports transaction and custom events tracking. One click affiliate network integration templates.
Membership and Pricing
There are three membership options available by RedTrack.io – a STARTER, PRO and BUSINESS. The STARTER supports 300,000 clicks, 0.06 / k overcharge and 3 custom domains. It cost you $29 per month only. The PRO allows 3,000,000 clicks, 0.04/k overcharge and unlimited domains. It cost you $79 per month only. Here you get an access to features like impression tracking, multi-access, post-events monitoring and auto optimization. The BUSINESS supports 15,000,000 clicks, 0.034/k overcharge and 24 month data retention. It gives 3 free extra users and cost you $339/mo only.
If you want to test their features; then there is a risk-free 14 days trial too. Alternatively; you should use our RedTrack coupon code to save up to 50% off on your monthly subscription. An annual subscription saves up to 30% off the normal price without any promo code. It is the best option for all those who are looking for a long run!
Originally posted 2019-08-22 12:54:20.