January 9, 2023
Insane Labz Coupon: Get Discount Code for Workout Supps
Insane Labz Psychotic­ and other supplements are available at 50% discount. Redeem a coupon code for free shipping.
Insane Labz is the health and lifestyle brand. They manufacture and deliver the cutting edge dietary supplement and vitamins. You can order their product online or at their local retail store as well. It is not another brand new health product; instead it has been since more than a decade. You can find their product on Walmart, CVS and other reputed national stores as well as at the online stores like Amazon etc too.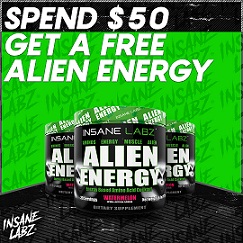 Whether you are looking for pre-workout supplement, fat burner, energy booster or the recovery products; the Insane Labz is the best choice. They uses finest quality ingredients with bring proven health supplements to you. If you are an athlete, student, gym rats or busy person with hectic job; then you should try Psychotic – the stimulant based supplement. You need to take it 20 to 30 minutes prior to your workout for optimum performance. Please visit the Insane Labz store for find many more such health products.
Top rated Insane Labz Coupons and Codes
UPREV30 or TAKEOFF30 (Most Popular!) – Try either of these codes to receive up to 30% discount on your entire order. It is valid once per user per account only. You cannot combine it with any other deals.
BOGO Deals (Ongoing Promotion!) – The buy one and get one free is available for Insane Focus GG, Pennywise, The Surgeon, Amino and the BURN. There is also the Mix N Match Basics Bogo promotion.
PSYCHO Sale – Head up to the sale section to purchase Insane Amino, Unicorn Energy, Insane Whey Protein at up to 40% off. No any additional voucher needed. Please follow a link to get it now!
Stacks Deal – Order a bundle of Hellboy or Fairy Tale or Energy and Pump stack to save up to $30 off.
Cash Contest – Purchase a product from an official site. Take a picture with your product and a sign that includes Your Order Number. Just post that picture to Instagram with #Insanelabzlottery tag for a chance to win huge cash prize up to $2000.
Is It The Reliable Supplement Brand?
Based in Harrison, AR; the Insane Labz is the supplement and lifestyle brand. It was started in 2010 by Dustin Lebleu. He initially started a health retail store and then he began checking ingredients of various products during free time. After making all the possible research; Dustin decided to make his own supplement product for better result at less price. It is the first health brand based on the horror theme. The Dustin like horror movies and thought to mix his personal interest with business life to make an unique brand. The company was started with two signature products; pre-workout Psychotic­® and then Insane Veinz™ to make superior stack. Today; they carry dozens of successful products to thousands of happy clients all around the nation.
Why Should You Try the Insane Labz?
All their products are proudly manufactured in US. The factory has GMP certified facility.
111% Asylum Guarantee: If you are no happy with the product; then they will provide a store credit of your full purchase price plus additional credit of 11%.
Free shipping is available for any order of $85 or more.
Products and Pricing
The Insane Labz carries wide range of health products for Energy, Pre-workout, Fat Burning and Recovery. Some of the signature products are Hellboy edition, Psychotic, Insane Veinz, Insane Cuts, Basic Ingredients, Whey Protein and Psychotic Gold. It cost you $66.66, $64.95, $54.95, $69.95, $29.95, $62.95 and $64.96 respectively. You can order a stack to cut the price. There is a bulk order or B1G1 free deal for several products.
An Insane Labz coupon code is available for the first time users only. There is a Reaper rewards program too. You earn reward points for your every purchase, social media shares, reviews, and many other task. Later you can redeem your points into a promo code value $5, $10 or even $20.
Originally posted 2019-08-11 10:40:25.