December 3, 2021
GVIDO Store Coupon: Get Discount Code for Music Score
HelpINeedHelp has exclusive GVIDO store coupon codes for you. Enjoy awesome discount on your order of music score reader.
Every profession has their unique weapons. Journalist has pen, Traders have laptop, so what's your? If you are a musician, then you must be dealing with a stick, paper score and music organs. But is that enough? well, the emerging technology makes your professional life smooth.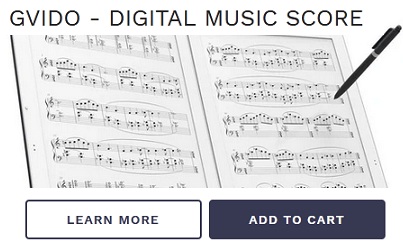 No need to work with traditional paper score, Try the GVIDO Store – the digital music score device for all the musicians. It contains the dual electronic paper to display your music scores and notes. Imagine you are standing in an open space for a music and the strong wind blow. The changes are high your paper may turn over with the wind. So you have to turn it back, and ultimately it may break your concentration.
GVIDO is lightweight, thin, dual screen digital music score device. It has all the features that you may need to replace your existing paper scores. There are very tech devices available in the market for musicians, and GVIDO is one of those. If you are fed up managing heavy paper scores, then this is the perfect option.
Please try below GVIDO discount coupons to order this device at lowest online price. Help I Need Help is the only resource to find best promotion.
Top Most GVIDO Coupons and Offer Codes
d78a9 (Editor's Choice)
It is an exclusive code available for HelpINeedHelp.com users. Please copy and paste a code at checkout point for $50 discount to the purchase.
For a limited time only, The Gvido music score is available at a discount price of $1300 only. That's whopping $300 off. It is the special campaign for all the musicians.
Free Stuff (Value Over $199)
Head up to grab this early bird deal. Get a free stylus pen and a cover value over $199 with every order of a digital music score.
GVIDO – The Most Popular Digital Music Score
Based in Tokyo, Japan, the GVIDO is the dual screen digital music score manager. It was designed and developed by the GVIDO MUSIC Co.,Ltd. in July 2015. It has large dual electric paper screens for proper usability and visibility. Below are some awesome features of GVIDO Store.
Insert Music Scores: Load pdf formatted music scores using USB cable. Or alternatively, you can add your own electric music scores from Gvido services.
Manage Large Musical Scores: You can store more than 4000 music scores in the in-built memory. Need more storage? it supports microSD card and cloud storage as well.
Turn Musical Scores: Gvido has dedicated infrared touch switch to turn the pages. You can auto-turn or skip pages too. You can read and display next page before the time. Most importantly, there would be no page flipping noises.
Saving and Sharing Option: You can save and manage your musical notes or bookmark within your library. Your music scores can also be stored in Gvido My Library folder. Share your notes and scores in just few clicks.
Commenting Option: User can write, edit or delete comments on any screens with the included stylus pen.
GVIDO Discounts and Promos
Available coupon code: 1 (exclusive)
Average discount: $50 FLAT
Last Updated: Today only
Products and Pricing
GVIDO Store features the world-class digital electric paper score device for musicians. Retail price of Gvido digital music score device is $1699 only, but you can get it on a discount for $1300 only. The offer is available for first few orders at official site only. It is not valid for Amazon or eBay purchase. The package contain, a Gvido device, a stylus pen with replacement tips, Sleeve case and a USB cable.
Apart from the main product, the Gvido offers some additional accessories too. It includes a Foot switch, Genuine leather case, Chorus cover and a stylus pen. It cost $300, $300, $150 and $50 respectively.
3 GVIDO FAQs by Help I Need Help Experts
Are the GVIDO Store coupon codes verified?
Yes of course! The HelpINeedHelp has manually verified promo codes and offers for GVIDO Store. In fact, some of our coupons are exclusive and 100% working. You can't find it anywhere else.
Can I stack my GVIDO discount with other promotion?
Well, all our GVIDO coupon codes can be combined with any other deals or promotion. However, you cannot use more than one promo code for any single order.
Who can use a GVIDO?
GVIDO is a digital, dual music score manager. Whether you are a musician, music lover, singer, or a music recorder; the device is perfect option.
Originally posted 2020-12-23 06:58:09.