February 7, 2021
Alitu Coupon: Get Discount Code for Podcast App
Don't buy Alitu before you read our review! Enjoy 20% discount on podcast software without any coupon code here!
Alitu is an online podcast creator. This tool just converts and clean up your audio files, so that you are ready to go for kiss-ass show. All you need to provide your raw recordings files and it will join those into perfect podcast. If you are spending nice amount of time on creating your content; but don't have time in editing; then this is the perfect solution. It will takes care of bitrates, metadata, file formats and sample rates.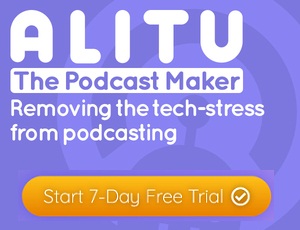 From adding your theme music to joining together all your recordings, and from editing your mistakes to publishing your final episodes to podcast publishing network; the Alitu takes care of everything for you. It is easy and quickest way to create podcast in fully automatic way. No need to work on enhancing your audio files anymore! All you need to concentrate on your presentation parts only. The Alitu handles everything including voice file polishing, brands and publishing your show to appropriate network.
Top rated Alitu Coupons and Codes
Up to 20% OFF (Most Popular) – Do you want to save huge on this wonderful application? Take a benefit of up to 20% off on your entire order. Pay for just 10 months and get access to the product for a whole year. That means; you get two months subscription for FREE here!
Free Trial – We know that spending money on any brand-new product/service isn't a wise anything; especially without testing or watching demo. Fortunately; there is 7 days free trial available for all the new users. You can cancel your trial anytime. They won't charge during your trial period.
Free eBook – Signup to their newsletter and receive free Ebook about "how to run a great podcast". It contains 20 part series to help you launch and grow your podcast.
Up to 35% OFF – During this Black Friday and Cyber Monday; enjoy whopping up to 35% off on your entire subscription purchase.
Is It The Best Podcast Maker Available On Market?
Alitu is a drag-and-drop web application to create awesome podcast quickly and automatically. It was launched in 2017 by Colin Gray – an owner of the podcast host academy. Colin has been podcasting since 2007, and had difficulty in editing and formatting his podcast. It was taking much of his precious time in all these stuffs. Hence he decided to automate all these things, so that he can focus on presentation part only. The final product is; Alitu.com. You can easily integrate it with popular podcasting services such as Blubrry, Libsyn, Podbean, Captivate, Speaker, Buzzsprout and Auphonic. An app handles everything including cleanup, edit, build, brand, polish and publish. You can utilize this powerful app to create an episode in just 4 minutes only.
What Alitu Does For You?
Clean ups and converts your audio files.
Put together all your recording clips (introduction, interview, advert, news segment etc).
It adds your theme music, setup fades, start and end.
Inserts id3 tags to publish final files to your host.
Edits to trim your clips by removing mistakes and silences if any.
Creates ads and segments with your music.
How Does Alitu Works?
It works in five simple steps for you.
Upload your recordings and it will cleans up your audio files.
An app brands your show by adding your theme music, FX, jingles and transitions automatically.
Next, it will put together all your episodes for smooth podcast creation.
Use their own custom podcast editor to make chances if any.
Hold tight! Next is to publish your episode to the world automatically with just a single click.
Plans and Pricing
The pricing policy of an Alitu is simple. There are only two plans to choose from; a Monthly, and an Annual. Both of these plans come with some awesome features such as upload multiple recordings, audio cleanup, trimming, editing mistakes, creating your theme music, adding fades, adding id3 tags and direct host publishing. The cost of a Monthly membership is $28 per month only. While an annual subscription cost $280/year only. Yes, you got two months subscription for FREE here. It doesn't need any promo code from your side.
However; if you need an Alitu coupon code; then visit above section. We closely checkout their official blog and social media profiles to keep up-to-date information about promotions. Don't Worry about service! They provide free trial, so you have enough time to test their service for FREE!
Originally posted 2020-04-07 11:34:22.